2023 Workshops, Activities and Demos
More than 100+ activities, workshops, demonstrations and more things than you can shake a fairy wand at! Of all the fairy festivals in the land (UK!) 3 Wishes Fairy Festival 2023 is the only award winning, live music, camping and glamping, fully plant-based, boutique fairy festival!
All activities and workshops are included in the price of your festival ticket.
We have around 100+ workshops and activities for you! All free, and included in the ticket price!
At 3 Wishes the Fairy School is free! And opens everyday!
We also have a Mermaid school!!! ALL SUBJECT TO CHANGE
SUNDAY Circus stage UPDATE
2.00 – 3.00 – Circus Show
3.30 – 4.15 – India Blue
4.30 – 5.15 – Seb guitar
5.30 – 6.15 – Connach
6.30 – 7.15 – Isyla
7.30 – 8.15 – Nature is Noisey
8.30 – 9.30 – Captains Beard
10.30 – 11.30 – The Dolmen
---
FRIDAY 16th JUNE 2023
09.00 am
Yoga with India Terry
Spirit space
09.00 am
Fun yoga for all with a gentle dynamic flow with Brett Jackson
Circus Tent
10.00 am
Bubble Flower Fairies Meet & Greet at Festival Reception
All day 11-5
Willow Lantern making with Marvellous Event-ures
Marvellous Eventures DEN
11.00 am
Wild Food Foraging Walk with Family Foraging Kitchen
Foraging Den
Fairy School
11.00 am
Friday: Cornish Sea Magic & Runes Talk & Craft a Bind Rune Talisman
11.30am
Bubble Flower Fairies
Around festival site
12.00 noon
Wild Food Cookery Class with Family Foraging Kitchen
Foraging Den
Spirit Space
12.00 noon
Clay Fairy Demo with Harry Purky
Purky Tent
12.00 noon
Fairy School
12.30 pm
Make a Fairy Headdress with Titania
Enchanted Tent
Various Times
Shamanic Drumming on the Driftwood Hollow Drums Stand
Driftwood Hollow
1.00 pm
Circus workshop in Big Top
BT
1.00 pm
Make a Magic Wishing Pot with Captain Purky
Purky Tent
1.00 pm
Musical Playtime for Tiny Fairies and Pixies with Laura Forster
Fairy School
1.00 pm
Spirit Space
1.00 pm
Bubble Flower Fairies
Around festival site
1.15pm
Titania's Tea Party underneath the Oak (or Enchanted Tent if wet)
Oak Tree
2.00 pm
Circus Show
Big Top Circus Tent
2.00 pm
Elemental Sound Bath with Debbi Walker

 

– Suara Sound Healing
Spirit Space
2.00 pm
Make a Mystic Mushroom with Captain Purky
Purky Tent
2.00 pm
Spirit Doll Making Sessions: Nature Spirit Doll with Marj
Dream Space
2.00 pm
Story time with Chianna Fae Fairy Queen under the Oak
Under the Oak Tree
2.30 pm
Make a Magic Wand with Titania
Enchanted Tent
3.00 pm
Fairy Crowns & Green Man/Woman Headdresses
Foraging Den
3.00 pm
Make a Fairy Door with Captain Purky
Purky Tent
3.00 pm
Meet with a Magical Fairy Princess from Fairyland!
Under the Oak Tree
3.00 pm
Vision Board workshop with Tre the Mermaid Fairy (15+)
Fairy School
3.00 pm
Mermaids in the Lagoon
Mermaid Lagoon
3.30pm
Titania's Tea Party underneath the Oak (or Enchanted Tent if wet)
Under the Oak Tree
4.00 pm
Make a Fairy Headdress with Titania
Enchanted Folk Tent
4.00 pm
Bubble Flower Fairies
Around festival site
4.30pm
Circus Skills workshop in Big Top
Big Top Circus Tent
4.30pm
Make a Fairy Headdress with Titania
Enchanted Tent
5.00 pm
Mermaids in the Lagoon
Mermaid Lagoon
5.00 pm
Pop Up Singing Circle with Laura Forster
Fairy School
5.00 pm
Titania's Tea Party underneath the Oak (or Enchanted Tent if wet)
Oak Tree or Enchanted Tent
6.00 pm
Drum Circle/Ceremony to Empower Spirit Dolls – Marj Rowland
Dream Space
7.00pm
Collect Willow lanterns from Marvellous Event-ures
Marvellous Eventures DEN
Mermaids in the Lagoon (2pm, 3pm and 5pm Friday and Sunday)
Mermaid Lagoon
Willow Lanterns Greenman and Flower Fairies Parade
Meet Outside Circus Tent
9.45 pm
Collect Willow lanterns from Marvellous Event-ures
Marvellous Eventures DEN
10.15pm
Willow Lanterns Parade (gather outside circus tent)
Outside Circus Tent
SATURDAY 17th JUNE – SCHEDULE
SATURDAY 17th JUNE 2023

09.00 am
Fun yoga for all with a gentle dynamic flow with Brett Jackson
Circus Tent
09.00 am
Balance Flame Chi Gong with Lucy
Inside Spirit Space
09.00 am
Chi Gong with Michael Tingle – Tai Chi Moon Club (Fri/Sat/Sun)
Meet outside Spirit Space
10.00 am
Bubble Flower Fairies Meet & Greet at Festival Reception
10.30 am
Healing your Fairy Heart – Cacao Ceremony – Deer Heart Woman
Spirit Space
All day 11-5
Willow Lantern making with Marvellous Event-ures
Marvellous Eventures DEN
11.00 am
Wild Food Foraging Walk with Family Foraging Kitchen
Foraging Den
11.00 am
Jonny Depp meet and greet at Reception
Reception
11.00 am
Traditional Old Ways Charm Making with a Wyse Woman
Fairy School
11.30am
Bubble Flower Fairies
Around festival site
12.00 noon
Wild Food Cookery Class with Family Foraging Kitchen
Foraging Den
12.00 noon
Elemental Sound Bath with Debbi Walker

 

– Suara Sound Healing
Spirit Space
12.00 noon
Clay Fairy Demo with Harry Purky
Purky Tent
12.00 noon
Mermaid Crafts: Shell Decorating with Mischief the Mermaid
Fairy School
12.30 pm
Make a Fairy Headdress with Titania
Enchanted Tent
Various Times
Shamanic Drumming on the Driftwood Hollow Drums Stand
Driftwood Hollow
1.00 pm
Circus workshop in Big Top
BT
1.00 pm
Make a Magic Wishing Pot with Captain Purky
Purky Tent
1.00 pm
Musical Playtime for Tiny Fairies and Pixies with Laura Forster
Fairy School
1.00 pm
Lizzie Freeborn – Faery Song
Spirit Space
1.00 pm
Bubble Flower Fairies
Around festival site
1.15pm
Titania's Tea Party underneath the Oak (or Enchanted Tent if wet)
Oak Tree
2.00 pm
Circus Show
Big Top Circus Tent
2.00 pm
Singing workshop with Katherine Blake of Mediaeval Baebes
Spirit Space
2.00 pm
Make a Mystic Mushroom with Captain Purky
Purky Tent
2.00 pm
Spirit Doll Making Sessions: Nature Spirit Doll Green Man/Woman with Marj
Dream Space
2.00 pm
Story time with Chianna Fae Fairy Queen under the Oak
Under the Oak Tree
2.00 pm
Create a Fairy Sigil with Trish McKinnley USA
Fairy School
2.30 pm
Make a Magic Wand with Titania
Enchanted Tent
3.00 pm
Fairy Crowns & Green Man/Woman Headdresses
Foraging Den
3.00 pm
Make a Fairy Door with Captain Purky
Purky Tent
3.00 pm
Meet with a Magical Fairy Princess from Fairyland!
Under the Oak Tree
3.00 pm
Vision Board workshop with Tre the Mermaid Fairy (15+)
Fairy School
3.00 pm
Mermaids in the Lagoon
Mermaid Lagoon
3.30pm
Titania's Tea Party underneath the Oak (or Enchanted Tent if wet)
Under the Oak Tree
4.00 pm
Faybles MEET with Armorel Hamilton
Fairy School
4.00 pm
Make a Fairy Headdress with Titania
Enchanted Folk Tent
4.00 pm
Bubble Flower Fairies
Around festival site
4.30pm
Circus Skills workshop in Big Top
Big Top Circus Tent
4.30pm
Make a Fairy Headdress with Titania
Enchanted Tent
5.00 pm
Mermaids in the Lagoon
Mermaid Lagoon
5.00 pm
Pop Up Singing Circle with Laura Forster
Fairy School
5.00 pm
Titania's Tea Party underneath the Oak (or Enchanted Tent if wet)
Oak Tree or Enchanted Tent
6.00 pm
Drum Circle/Ceremony to Empower Spirit Dolls – Marj Rowland
Dream Space
7.00pm
Collect Willow lanterns from Marvellous Event-ures
Marvellous Eventures DEN
Mermaid Lagoon
Willow Lanterns Greenman and Flower Fairies Parade
Meet Outside Circus Tent
9.45 pm
Collect Willow lanterns from Marvellous Event-ures
Marvellous Eventures DEN
10.15pm
Willow Lanterns Parade (gather outside circus tent)
Outside Circus Tent
SUNDAY 18th JUNE 2023
09.00 am
Yoga with India Terry
Spirit space
09.00 am
Fun yoga for all with a gentle dynamic flow with Brett Jackson
Circus Tent
09.00 am
Chi Gong with Michael Tingle (Tai Chi Moon Club)
Inside Spirit Space
10.00 am
Bubble Flower Fairies Meet & Greet at Festival Reception
10.30 am
Healing your Fairy Heart – Cacao Ceremony – Deer Heart Woman
Spirit Space
All day 11-5
Willow Lantern making with Marvellous Event-ures
Marvellous Eventures DEN
11.00 am
Wild Food Foraging Walk with Family Foraging Kitchen
Foraging Den
11.00 am
Jonny Depp meet and greet at Reception
Reception
11.00 am
Fairy School
11.00 am
Friday: Cornish Sea Magic & Runes Talk & Craft a Bind Rune Talisman
11.30am
Bubble Flower Fairies
Around festival site
12.00 noon
Wild Food Cookery Class with Family Foraging Kitchen
Foraging Den
12.00 noon
Elemental Sound Bath with Debbi Walker

 

– Suara Sound Healing
Spirit Space
12.00 noon
Clay Fairy Demo with Harry Purky
Purky Tent
12.00 noon
Fairy School
12.30 pm
Make a Fairy Headdress with Titania
Enchanted Tent
Various Times
Shamanic Drumming on the Driftwood Hollow Drums Stand
Driftwood Hollow
1.00 pm
Circus workshop in Big Top
BT
1.00 pm
Make a Magic Wishing Pot with Captain Purky
Purky Tent
1.00 pm
Musical Playtime for Tiny Fairies and Pixies with Laura Forster
Fairy School
1.00 pm
Spirit Space
1.00 pm
Bubble Flower Fairies
Around festival site
1.15pm
Titania's Tea Party underneath the Oak (or Enchanted Tent if wet)
Oak Tree
2.00 pm
Circus Show
Big Top Circus Tent
2.00 pm
Spirit Space
2.00 pm
Make a Mystic Mushroom with Captain Purky
Purky Tent
2.00 pm
Spirit Doll Making Sessions: Nature Spirit Doll with Marj
Dream Space
2.00 pm
Explore the Land with the Wildflower Hunter (Trixie)
Meet outside Fairy School
2.00 pm
Story time with Chianna Fae Fairy Queen under the Oak
Under the Oak Tree
2.00 pm
Fairy School
2.30 pm
Make a Magic Wand with Titania
Enchanted Tent
3.00 pm
Fairy Crowns & Green Man/Woman Headdresses
Foraging Den
3.00 pm
Make a Fairy Door with Captain Purky
Purky Tent
3.00 pm
Meet with a Magical Fairy Princess from Fairyland!
Under the Oak Tree
3.00 pm
Vision Board workshop with Tre the Mermaid Fairy (15+)
Fairy School
3.00 pm
Mermaids in the Lagoon
Mermaid Lagoon
3.30pm
Titania's Tea Party underneath the Oak (or Enchanted Tent if wet)
Under the Oak Tree
4.00 pm
Enchanting Intentions: Fairy Vision Board with Trish McKinnley USA
Fairy School
4.00 pm
Make a Fairy Headdress with Titania
Enchanted Folk Tent
4.00 pm
Bubble Flower Fairies
Around festival site
4.30pm
Circus Skills workshop in Big Top
Big Top Circus Tent
4.30pm
Make a Fairy Headdress with Titania
Enchanted Tent
5.00 pm
Mermaids in the Lagoon
Mermaid Lagoon
5.00 pm
Pop Up Singing Circle with Laura Forster
Fairy School
5.00 pm
Titania's Tea Party underneath the Oak (or Enchanted Tent if wet)
Oak Tree or Enchanted Tent
6.00 pm
Under the Oak Tree
6.00 pm
Drum Circle/Ceremony to Empower Spirit Dolls – Marj Rowland
Dream Space
7.00pm
Collect Willow lanterns from Marvellous Event-ures
Marvellous Eventures DEN
Mermaids in the Lagoon (2pm, 3pm and 5pm Friday and Sunday)
Mermaid Lagoon
Willow Lanterns Greenman and Flower Fairies Parade
Meet Outside Circus Tent
9.45 pm
Collect Willow lanterns from Marvellous Event-ures
Marvellous Eventures DEN
10.15pm
Willow Lanterns Parade (gather outside circus tent)
Outside Circus Tent
Midnight
Closing Circle and Magical Fairy News with Karen Kay, Trish & Violet
Faery Kingdom Arena Stage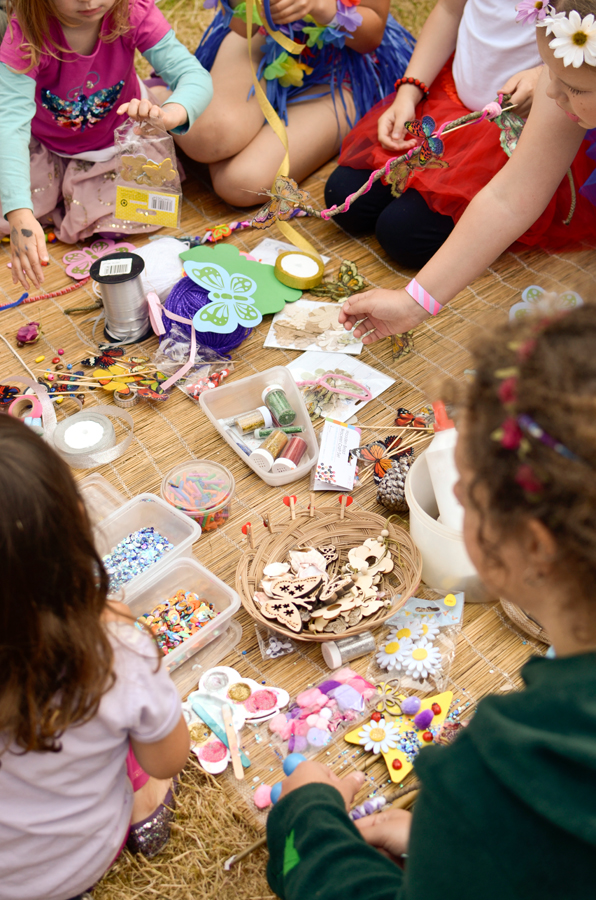 Join the Faybles Meet-Up with Mother of Faybles, Armorel Hamilton