Hi everyone, so, here is the info you've been very patiently waiting for – Thank you so much for giving us extra space whilst we dealt with the loss of our dear friend, Isaac, who was also known to many of you.
A few of you have been asking about the new trading areas and how these changes will affect you as a trader, so I will address this first, including our reasons for changing things around.
Due to the layout of the land, the former main (upper field) this never felt right to our team. So, with the "new and improved" site plan we have arranged it so that the stalls are placed in areas where you'll receive the most footfall, depending on the type of stall you have booked, so for instance, premium stall holders will be closest to the bigger big top which now contains our new main stage.
Also, by doing this, we are protecting festival visitors from the elements, so they will have shelter from the rain, and shade from the sun – plus the sides can be opened up if it's really hot. So basically, we've go you covered! (excuse the pun!).There will also be a new bar inside the big top called "The Mermaid's Purse" this is being run by the lovely Velvet Buccaneer tribe.
We have created a new fairy glade area where the food and cafes will be situated, near the workshops stalls , and traders. Traders who are offering workshops and crafts etc are listed on the map key. The wonderful Buccaneer Bar is in this area too,  and our beautiful fairy tree. The unicorn glade area will be in between this and the fairy kingdom arena. So fairy feet will be able to flow nicely between the various "zones". The Fairy workshop tent (Fairy School) is now at the far end of the fairy kingdom arena so it's a little quieter for meditations etc, but still close enough to the hub of the festival and facilities.
NEW SITE MAP!
Click image to see larger version – you will receive a printed map and workshops etc with your tickets (posted out early next week)
Expect the unexpected as everything is topsy-turvy, upside-down, inside-out, and back-to-front, on fairies' orders! Our main stage is now inside an even bigger Big Top circus tent! We got you covered!
To summarise
Please know that a lot of thought has gone into this new site layout and we want to make the 3 Wishes Fairy Festival experience magical for everyone and that of course includes all of you magical traders. We do understand that some people do not feel comfortable with changes, but when you "let go and allow the fairy flow!" you'll find it could be even better than it was before!
VENUE INFO & DATES
FESTIVAL DATES: 3 Wishes Fairy Festival on Friday 21st to Sunday 23rd June 2019
VENUE ADDRESS: Mount Edgcumbe Country Park, Cremyll, Torpoint, Cornwall PL10 1HZ
SET-UP TIMES
Traders must be set-up by Thursday evening (21st June), and pack-down on Monday (24th June) by noon. Some traders will be invited to set up on the Wednesday if you have a larger pitch size. If you would like to arrive outside of these times you must let us know before hand. We will try our best to accommodate your needs if psosible.
You cannot leave the site on Sunday, unless agreed in advance with me in writing. No exceptions. This is for health & safety reasons. We cannot have vehicles driving across the site while we have members of the public in attendance, and young children running around.
You can arrive anytime from midday onwards on the Thursday afternoon (or Wednesday by prior arrangement).
If you plan to arrive outside of these times you must let us know beforehand. If you have a larger than 3×3 trader stand we might need to get you on site earlier, possibly on the Wednesday – but again, this is ONLY BY PRIOR AGREEMENT in writing.
Your stall and personal name/s will be on the gate with our securty staff. You will be shown where to set-up by our site manager Chris Franklin or one of his assistants.
Any questions, please email info@fairyfestival.co.uk or call 01736 330201
IMPORTANT
You may NOT drive across the festival site during the event unless authorised to do so by the site manager Chris Franklin – if permitted, he will provide official 3 Wishes stewards to guide you through. We have very young children running around and can not put lives at risk! I'm sure you will understand. Sorry for sounding bossy!
ELECTRIC HOOK-UP
Traders who've paid for electric are reminded that they will need to bring the appropriate 16amp connector and cable to connect to the generators. The minimum recommended length is 30m. If you don't have such an item they look like this:
And are available from ebay: 
https://www.ebay.co.uk/itm/30m-Blue-Caravan-Hook-Up-Cable-2-5mm-16A-Blue-Plug-4G-Socket-with-Carry-Strap-/152466132470
TERMS OF TRADING for 3 WISHES
All traders MUST have valid Public Liability Insurance in order to trade at the festival. You must have your PLI with you at all times. We need to see up-to-date copies of your PLI and any other relevant documents, email these in advance to info@fairyfestival.co.uk
Trading Pitches are 10′ by 10′ (3m x 3m) – if yours is larger you MUST notify us IN ADVANCE (Now!), as we may not be able to give you a space on the day, there will be an extra surcharge for this.
Electricity hook ups for traders MUST be booked and paid for in advance. If you have not paid for a power supply we cannot provide this on the fly, sorry.
Generators brought in by traders must the modern 'silent' diesel types, and be in a protective housing and running efficiently, with all the safety checks up-to-date.
Any questions, please email info@fairyfestival.co.uk
Please note: Stall bookings are non-refundable and non-transferable.
We wish you a fantastic time at 3 Wishes Fairy Festival and wish you all safe and very happy travels to Cornwall.
SHARE SHARE SHARE!
Please let your customers and followers know where you will be:
OFFICIAL FESTIVAL WEBSITES:
OFFICIAL TICKET WEBSITE:
CLOSED TRADERS GROUP on FACEBOOK
https://www.facebook.com/groups/169965699720489/
2019 3 Wishes Fairy Festival Event Page:
https://www.facebook.com/events/1780000155381119/
Workshops, Talks, Walks
Click image to see larger version
Stage times
Check chalk-boards daily in case of changes.
Click image to see larger version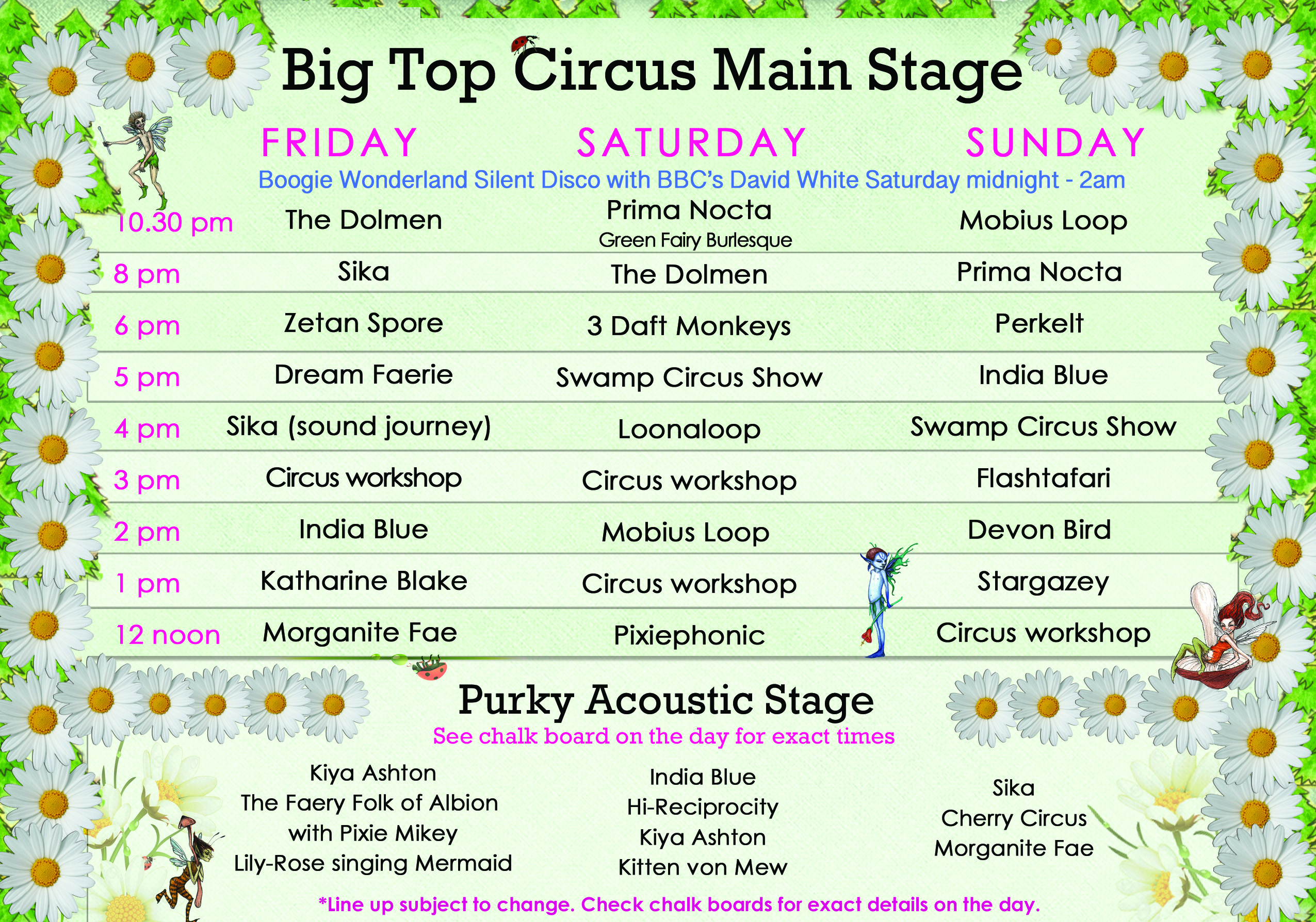 Overview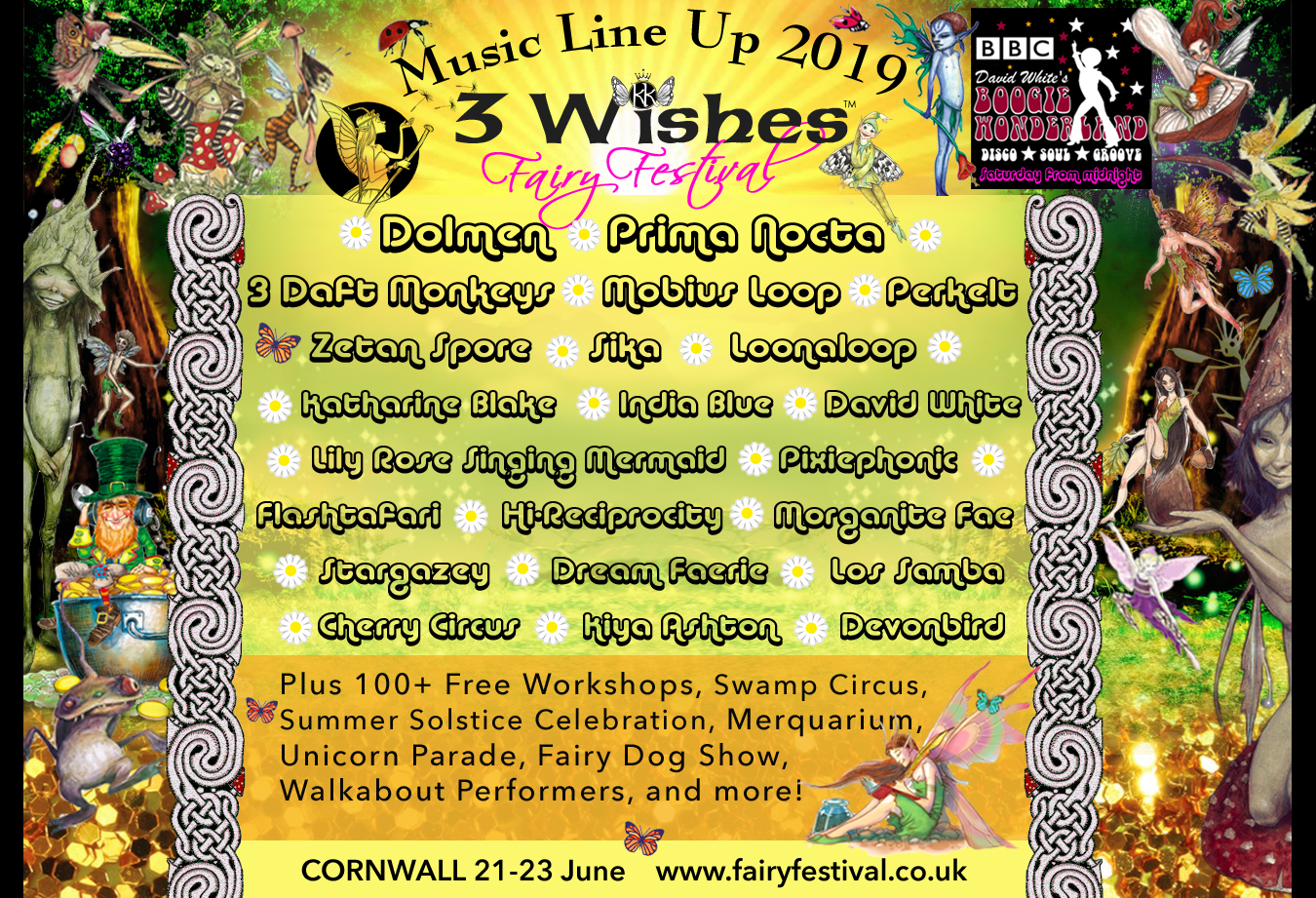 The BBC's David White is bringing his "Boogie wonderland" silent disco (we provide the headphones) at midnight on Saturday 22nd June.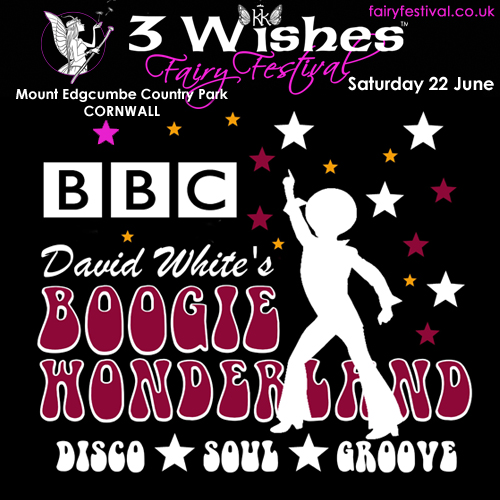 Keep a look out for more newsletters as the next one will be highlighting some of the amazing traders, activities and workshops
All workshops are free and included in your festival entry ticket.

---
If you missed our magical time in London on ITV's This Morning with Holly Willoughby and Philip Scholfield.
YOU CAN SEE THE VIDEO FROM THE SHOW HERE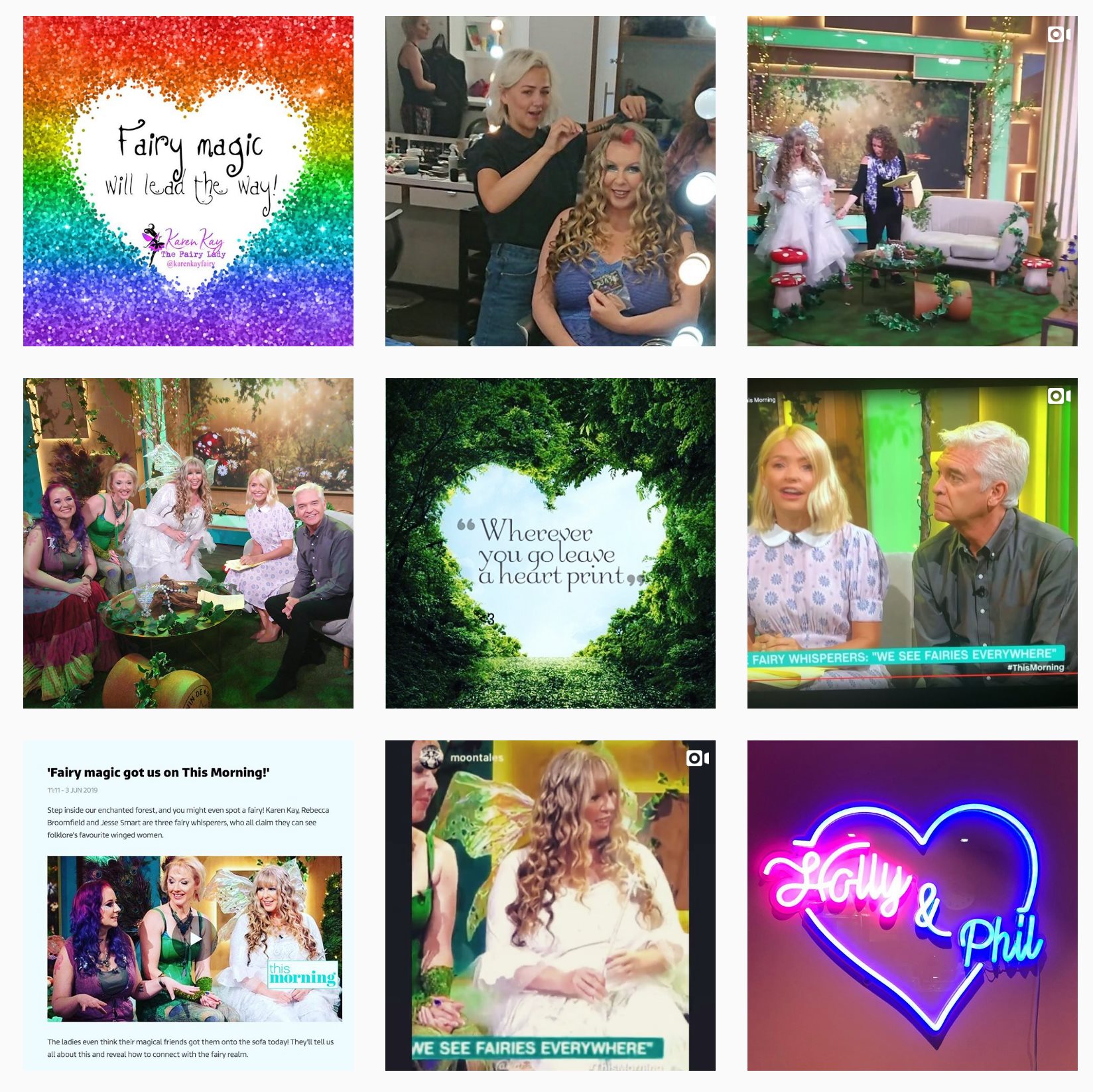 Until the next time sending lots of love and fairy light to you xXx
---